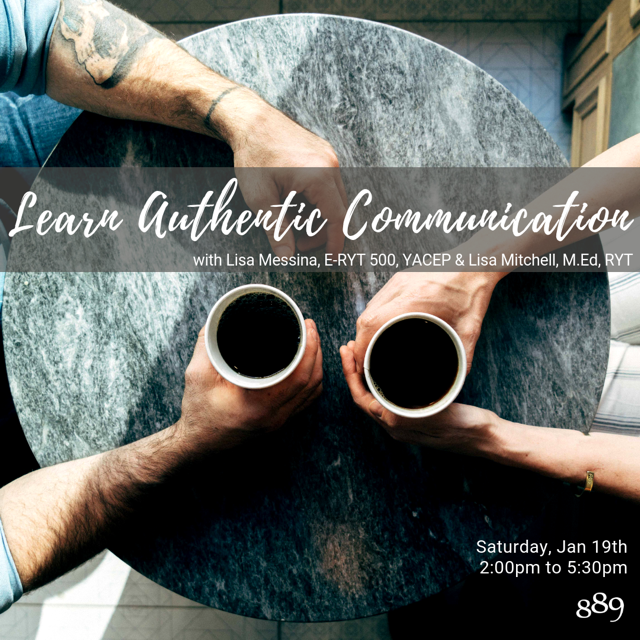 Lisa Mitchell, M.Ed, RYT & Lisa Messina, E-RYT 500, YACEP
Date: Saturday Jan 19, 2019
Time: 2:00pm to 5:30pm
Location: 889 Community, 889 Yonge St
Communication matters. Do you long to be heard, seen and understood as a human being?
Do you have difficulty showing up and sharing what you are really feeling? Do you feel you could enhance your listening skills, ability to stay open, present and compassionate? If so, this workshop is for you. Many of us struggle in these ways. Authentic Communication is a way of relating to self and others and once learned this practice offers a new way of being in the world.
Participants will learn about:
• Different emotions and how we experience them
• Honouring, naming and communicating feelings and sensations
• The interplay between mind and body – how we communicate with our whole being
• Authentic communication blockers and masks
• How to communicate authentically and how this way of being typically results in deeper connection and intimacy
This experiential workshop will be helpful for:
• Couples
• Parents
• Leaders
• Therapists
• Students and teachers of yoga
• Curious beings
Learning and growing happen in community. Your facilitators will cultivate a safe space in which to explore and practice. Handouts will be provided so that you can share these principles and practices with others in your life and continue to expand.
Register soon as there are limited spaces.
Both Lisa's are students and seasoned teachers of yoga and have trained in Relational Somatic Psychotherapy with Dr. Michael Sieck, Founder of the Three Fold Way and Jeff Turner. They feel that Authentic Communication has transformed and enriched their lives and are eager to share these principles with others.
Price:
$200.00 + hst per person $189.00 + hst for 889 members