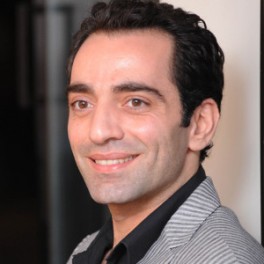 Osteopathic Manual Practitioner (D.OM.P.)  & Anthroposophist Therapist
Elias Abdel Ahad is an Osteopathic Manual Practitioner (D.O.M.P.), holds a BSc in Physiotherapy and has thorough training in a wide range of holistic therapies including Osteopathy, Reiki, Rhythmical Massage, Acupuncture, and Shiatsu. Originally from Lebanon, Elias also specializes in Anthroposophic therapy, which reflects his deep understanding of our Body-Spirit-Mind connection. Elias integrates his extensive knowledge and over 20 years of direct patient care with his skills, techniques and spiritual insights to help clients address chronic syndromes, obtain psychosomatic release and release severe traumas. By invigorating the deep rhythms of the Body-Spirit-Mind connection, which is the essential expression of life, Elias helps clients awaken and strengthen their powerful life force to achieve optimal mental and physical well-being.
Also a highly experienced facilitator, Elias has facilitated professional workshops in Dubai, Bahrain, Kuwait, Lebanon, and Canada on numerous topics including: Phases of Life, Child Development, Rhythmic Massage, Reiki and Chakras.
A faculty member of National Academy of Osteopathy- Canada
Phone:   (647)861-0046
Email:     elias@elyias.com
Website: www.elyias.com
Rate: $150
Insurance Accepted: Yes, covered under Manual Osteopathy
AVAILABILITY:
Tuesdays: 10:00 am – 7:00 pm
Wednesdays: 10:00 am – 7:00 pm
SPECIALTIES
Anxiety
Depression
Bi-Polar Disorder
Alcohol Addiction
Substance Abuse (illegal and prescription)
Eating Disorders
Sex Addictions
Schizophrenia
Autism Spectrum Disorder
Borderline Personality Disorder
Dissociative Disorders
Adults (20 and over)
Teens (13-19)
Children/Youth (2-12)
Grief/Bereavement
Trauma and PTSD
Physical/Sexual Assault
Sleep disorders
Headaches and migraines
Muscular tension, strain and injury
Back pain
Allergies
Cancer
Immune and auto-immune disorders
ADD and ADHD
Developmental disorders and disabilities
Behavioral health disorders
Hormonal imbalances associated with menstruation and menopause
Degenerative disorders of the nervous system
TRAINING
Manual Osteopathy (Canada)
Rhythmical Massage Therapy (Switzerland)
Physiotherapy (Lebanon)
Hypnotherapy (Canada)
Neuro-Skeletal Calibration (Canada)
Crystal Therapy (Spain)
Chinese Massage and Acupuncture (Lebanon, Kuwait, China)
Psycho-somatic reading (France)
Distant Healing (France)
Reiki (Lebanon)
Relational Somatic Therapy (Canada – Ongoing)
Additional Holistic Therapies
LANGUAGES
English
French
Arabic